Five star luxury in Greece, Ginny Scott shares her holiday experience
After a very rainy holiday in Austria last summer – due to the Gulf Stream not being in its normal place – my daughter and I decided to head a bit further south this summer and try out one of the 5* boutique all-inclusive options in Greece.
Travel Counsellors has a direct contract at the Ikos hotels on the Halkidiki peninsula, so Lily and I settled on a 10 night holiday at the Ikos Oceania in Nea Moudania. We chose early morning flights with Easyjet from Gatwick instead of the later Ryanair flights from Stansted.
The arrival was very well organised with our taxi waiting to take us the 45 minutes to the hotel. The hotel's arrivals are very well organised – the taxi gave our names to security at the gate, and we were greeted by name as we got out at reception. Very slick.
Our rooms weren't ready so it was suggested we go and have some lunch and pick our keys up afterwards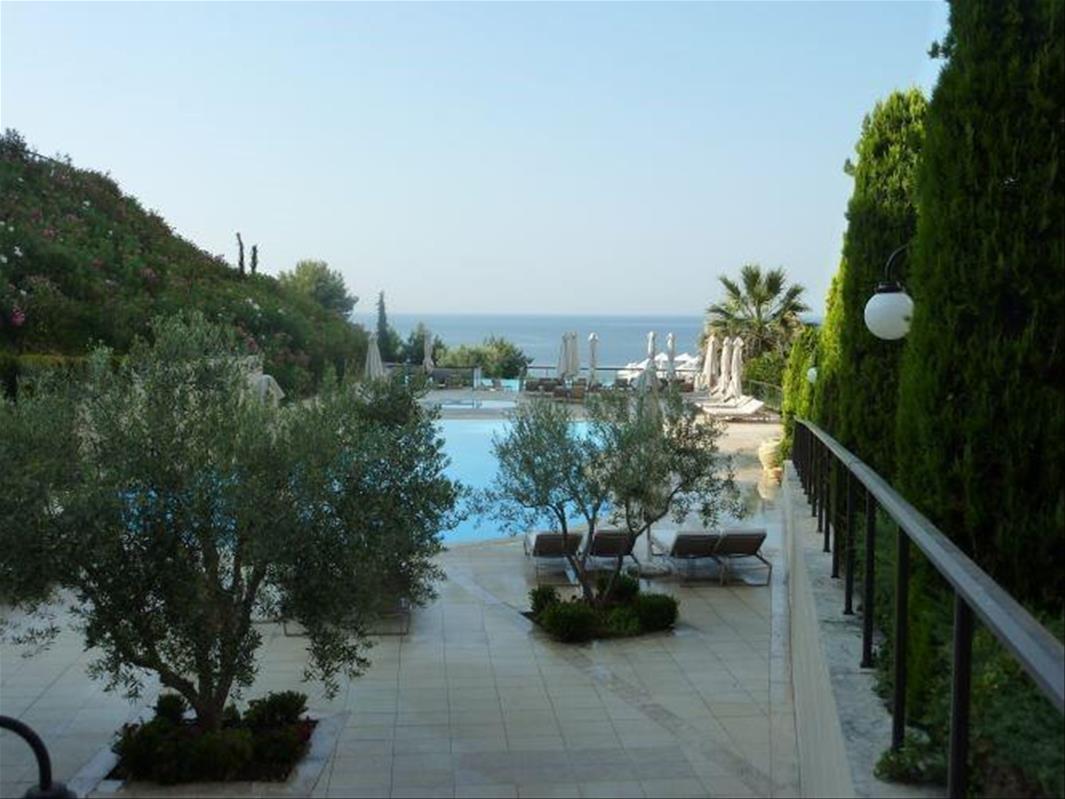 which worked out perfectly. When we collected our key, the bags had already gone to the room which was very efficient. The hotel itself has been extensively refurbished under the new management in soft tones of pale blue and ivory. The public areas are spacious and comfy and our room was no exception. We had paid a bit extra to have a sea view room and that was lovely – especially at sunset!
Service at this hotel was excellent everywhere, from the cleaners to reception to the restaurants. The hotel has 4 a la carte restaurants (Italian, Asian, French and Greek) and a desk in reception dedicated to making reservations for the dining. We booked a meal in each of them and managed to secure dates and times to suit with no hassle whatsoever. The food everywhere was excellent and unlike some larger main stream all-inclusive hotels, a lot of effort was given to providing a good range of local cuisine which was lovely to see. 
The main buffet restaurant was excellent – and as Lily was 12 at the time – we were allowed to eat in the adult only section away from the high chairs and noise which was also really good.
There was some form of entertainment on most evenings and the two shows we saw were really very good. There was also entertainment on around the pool in the early evening which was a lovely venue as quite a few people liked to have a drink before dinner so there was a nice ambience there.
We didn't use the children's clubs, although you can pre-book those in advance. For the first week also, we didn't try to use any of the sports facilities as it was so hot and there was no wind whatsoever. By the time there was wind to do some sailing or wind surfing, we were so chilled out we didn't bother!
My only reservation about this hotel is that there are a lot of sea urchins in the shallows – the hotel has put sand bags down to form several bridges out and over them but this led us not to use the beach during our stay. We did know this when we booked the holiday so it wasn't an issue but the pools were so good, that it didn't affect our holiday at all.
Would we go back? Absolutely!